Mark
In 2011, The United States Army and Air Force began its long and arduous search for the handgun to replace the prestigious Beretta M9. Following a number of delays, SIG SAUER was eventually awarded the contract for their new P320, available in two variants – the XM17 and the XM18. The XM17 and XM18 versions of the SIG Sauer P320 were chosen for the full size and compact pistol versions. After acceptance into service, the handguns received the designations M17 and M18, respectively. They are configurable to receive suppressors and even though the 9mm was chosen, they can be adapted to fire other calibers and are expected to have a ten-year rollout period.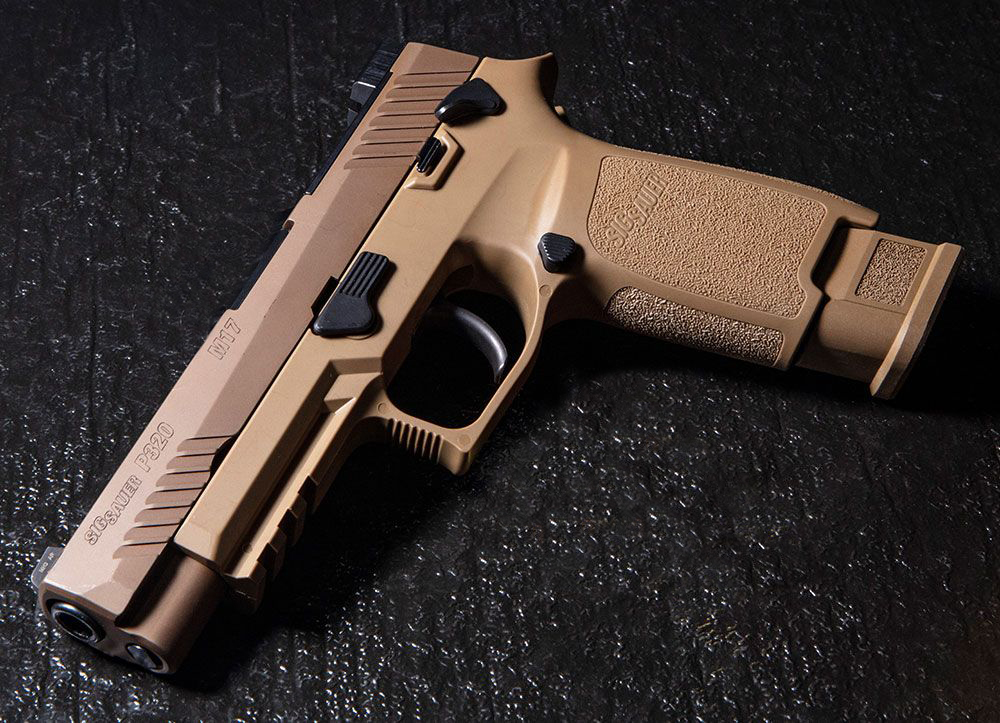 As with all things real-world weaponry, it didn't take long for a number of variants of the M17 to pop up on the market, however, up until now a fully licensed variant was not available. Enter the ProForce M17, a fully SIG SAUER licensed replica of the M17 variant of the P320.
Featuring a 20mm rail and an ambidextrous trigger disconnect safety towards the rear of the pistol, the ProForce M17 boasts everything you would expect of the real-world version, just scaled back to function within the airsoft world. The pistol grip is remarkably comfortable and features a tactile stippling effect to improve handling. Furthermore, the grip comes complete with SIG SAUER branding – another ode to the fully licensed nature of the M17. The magazine holds 28 rounds and is slightly extended and features a Polymer cover on the base, which is there to protect it from impact damage. The package also includes a HOP Adjustment Tool.
The trigger guard is identical to its real-world counterpart, which was enlarged to prevent dirt from entering the trigger well. The iron sights on the slide are also identical and easy to use, but above all, each pistol – just like in the real world has its very own unique serial number. You can see that every detail of this pistol has been relocated for the airsoft market – something you would expect from a high level, fully licensed replica.
If you're looking for a realistic and fully licensed Airsoft Gas Pistol with crisp recoil action and an excellent performance straight out of the box that looks vertically identical to its real-world counterpart, then the M17 ProForce has to be a contender surely.