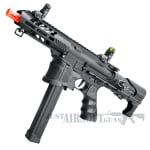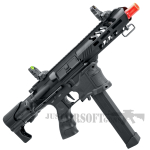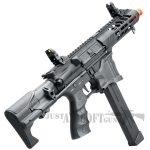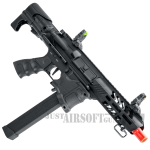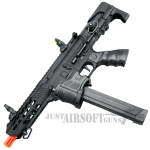 Bulldog Hawk-VS Ace Line AEG Airsoft Gun
Offer Ends In:
3
Days
03
Hours
45
Minutes
50
Seconds
This is the NEW Bulldog Hawk-VS Ace Line AEG Airsoft Gun.
Please note battery and charger are not included with this gun.
Brand: BULLDOG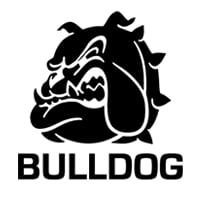 CUSTOMERS WHO BOUGHT THIS ITEM ALSO BOUGHT: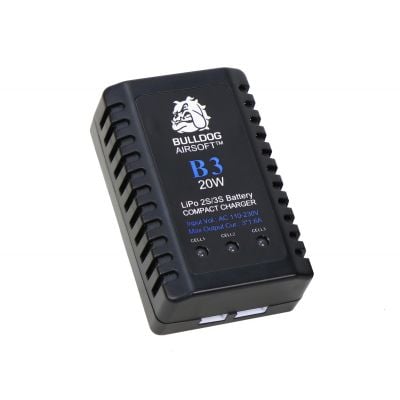 Description
Additional information
Reviews (0)
Shipping Costs
Description













NEW BULLDOG HAWK-VS AIRSOFT GUN
This is the new Bulldog Hawk-VS AEG Airsoft Gun. It is an AR-style 9mm PDW-style Ace Line airsoft gun. It has a QD sling mount, 3-position stock, and an adapter for both 9mm and M4 magazines, which makes it a versatile platform. Also, it features a new rotary hop-up type and fiber-optic flip-up front and rear sights. As it is an Ace Line airsoft gun, the gun and receiver are full metal, and it offers many high-end components, making it the ideal gun for any serious airsoft player.
FEATURES
Full Metal V2 Updated Gearbox
E-Trigger System for Customisation
Competition Style Flat Trigger
QC System for Quick Changing of the Spring
8mm Metal Bushing
Full Metal Teeth Rack Piston
Full Metal Ported Cylinder
Full Metal Double O-Ring Cylinder Head
O-Ring Air Nozzle for Better Air Compression
Full Metal Ball Bearing Spring Guide
Constructed with Alloy and Polymer
20 Positions Fine-Tuning updated new Rotary Hop-Up Unit
400 FPS with .20g BBs
Alloy Upper Receiver with 20mm Top Rail
Alloy Lower Receiver with Engraved SRC Image
CNC Alloy M-LOK Handguard
Alloy Outer Barrel
Alloy Flash Hider
Flip-Up Fibre Optic Front and Rear Sights
Tread Style Grip
Alloy Charging Handle, Dust Cover, and Selector
Alloy Trigger and Magazine Release
Ace Line Gearbox with 8mm Gen III Bearings
Internal Steel Gear Set Gen II
M4 Metal Hi-Cap Magazine 300 Rounds
9mm Hi-Cap Magazine 270 Rounds
9mm Magazine Converter
IN THE BOX
Hawk-VS Ace Line AEG Airsoft Gun
M4 Hi-Cap Magazine
9mm Hi-Cap Magazine
9mm Magazine Converter
Unblocking and Cleaning Rod
SR4 Manual – English
E-Trigger Manual – English
SPECIFICATIONS
| | |
| --- | --- |
| NAME | HAWK-VS AEG |
| TYPE | RIFLE |
| SKU | GE9E2228TM |
| MAKE | SRC |
| BRAND | BULLDOG |
| FORMAT | ACE LINE |
| PLATFORM | M4, AR 9MM, PDW |
| FPS (ESTIMATED) | 400 |
| POWER TYPE | ELECTRIC |
| BATTERY | 11.1 LI-PO |
| BATTERY HOUSING | TACTICAL STOCK |
| M4 MAGAZINE | 300RD HI-CAP |
| 9MM MAGAZINE | 270RD HI-CAP |
| HOP-UP | ADJUSTABLE ROTERY |
| CONSTRUCTION | METAL ALLOY / POLYMER |
| E-TRIGGER SYSTEM | YES |
| QC SYSTEM | YES |
| GEARBOX | ACE LINE V2 FULL METAL |
| SIGHTS | POP-UP |
| STOCK | TACTICAL - ADJUSTABLE |
| SELECTOR SWITCH | SAFF / SEMI / FULL AUTO |
| HAND GAURD | CNC ALLOY M-LOCK |
| 1:1 SCALE | YES |
| WEIGHT (ESTIMATED) | 2342G |
| LENGTH | 660-740 (MM) |
| MAGAZINE | 9MM AND M4 HI-CAP |
| WITH BATTERY | NO |
| WITH CHARGER | NO |

WHAT IS A HOP-UP
A hop-up device applies a backspin to the projectile reducing the air pressure on its top side. This causes the plastic BB pellet to fall less over a given distance than it would without the spin applied, extending the effective range of the weapon without increasing velocity. This improves your accuracy and increases your shooting enjoyment both down range to a target or in an airsoft battle.
HOP-UP ADJUSTMENT
Pull the charging handle to the rear, exposing the hop-up dial.
To reduce the hop-up, rotate the hop-up dial towards the normal setting.
To increase the hop-up, rotate the hop-up dial towards the hop setting.
This gun has a rotary hop-up with 20 positions for fine-tuning.

HOW TO SWITCH SHOOTING MODE
The SRC E-Trigger resets to default mode (SEMI/FULL AUTO) every time when you remove and re-connect the battery.
Switch to Semi-Auto and hold the trigger for 5 seconds will vibrate the grip and move to the next mode.
When the grip vibrates twice every 5 seconds, it is a low power warning, and you should change the battery.
When the sensor detects that the internal temperature is too high, it will stop further operation to prevent damage.


QUICK CHANGE SPRING
The SRC QC system enables spring access without taking the gun apart.
Remove the stock, and remove the fixing screw inside.
Remove the end plate to expose the QC spring guide.
Remove the QC spring guide with a large screwdriver or a coin.
The QC system requires no specialist tools and enables you to change the spring without opening the gun's receiver or gearbox, and this can be done in just a few minutes.

MAGAZINE WELL COVERS 
This gun is complete with a polymer mag well cover. This is an optional item that can be fitted and removed as needed. Many airsofters say that it offers better gun control in CQB battles and when not using a frount grip. Take the two sides and screws out of the bag. Place the two sides over the mag well and receiver. Using a screwdriver, insert the screws supplied. Screws only go into the Mag Well covers and NOT the gun.
Additional information
| | |
| --- | --- |
| Weight | 9 lbs |
| Dimensions | 36 × 12 × 4 in |
| Color | Black |
| FPS | 400 |
| Power Type | Electric |
Availability
Now available in-store at
11181 Denton Drive, Suite 101 Dallas 75229


Powered With Oliver Pos
ITEM AVAILABILITY
All items which are available to order will be marked as "IN STOCK" Items marked otherwise will take longer to ship out based on availability. All in-stock orders are usually shipped out the next business day and may take a maximum of three business days. You will receive a notification with detailed tracking information after it ships out from our warehouse. You can also log into your account, to view the current tracking progress.
USPS FIRST CLASS MAIL
All orders placed by 1 pm CST usually go out the same day but may be delayed. First-class mail tends to take a lot longer to deliver as compared to other options. So please don't be in a rush if you choose this option. We recommend Priority for 2-4 day delivery. First-class can take up to a week, but sometimes deliver them earlier as well, 2-3 days. First-class is only for small packages under One pound (0.45 kg).
GROUND / FLAT RATE
Packages ship same-day if ordered before 1 pm CST. This is one of the fastest methods if you're in the southeast USA. Orders placed over the weekend ship on Monday. Billing and shipping addresses must match for all Orders to be confirmed. Please use PayPal as your preferred payment option, as all shipping addresses are being validated through PayPal. Or call your credit card company (number on the back of your card) to authorize your new address as an AVS matching address.
USA RESTRICTED SHIPPING
Most Airsoft Gun orders to New York are not allowed due to state laws and regulations the state has implemented. Do check with our Customer Service team, to check whether your NYC Zip code is under restricted areas or not. All NYC gun orders will be canceled immediately. We will still ship airsoft accessories, tactical gear, and everything else to NY residents though. From January 2016, California airsoft guns will be shipped with new colored strips to adhere to its new gun laws (SB 199). Additional marking will be done to ensure that the Airsoft Guns, comply with the regulations.
AGE RESTRICTIONS WHEN BUYING GUNS
Under Federal Law, airsoft guns and air guns are not classified as firearms and are legal for all ages. Persons under the age of 18 are not permitted to buy airsoft guns, however; a person of any age may use one.
AGE RESTRICTIONS WHEN BUYING BB AND ACCESSORIES
There is no age restriction when buying BBs or other accessories. However, items such as GAS, CO2, SMOKE GRENADES and FLASH BANGS may have an 18 years restriction applied.
MINIMUM AGE YOU CAN OWN OR FIRE AN AIRSOFT GUN
There is no age restriction to own or to operate an Airsoft Gun. It is within the law for a person that is 18 years or over to purchase an Airsoft Gun and gift it to a person that is under the age of 18 years of age to own and operate. So, a parent can buy an airsoft gun and give it to their child to use or keep regardless of their age. We recommend that an adult should supervise persons under the age of 14 years.