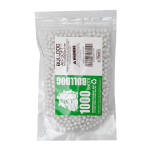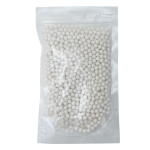 Bulldog Biodegradable 1000 Airsoft BB 0.20g White
$4.99
This bag contains 1000 competitive grade 0.20g airsoft Biodegradable BBs 6mm White.
Brand: BULLDOG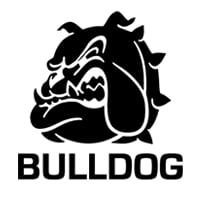 QUANTITY

PRICE EACH

1 - 2

0%

$

4.99
3 - 4

5%

$

4.74
5 +

10%

$

4.49
CUSTOMERS WHO BOUGHT THIS ITEM ALSO BOUGHT: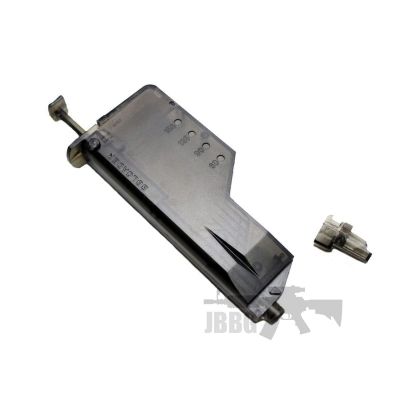 Description
Additional information
Reviews (0)
Shipping Costs
Description
BULLDOG BIO 0.20G BB WHITE 1000 IN A REUSABLE BAG
Bulldog Airsoft 0.20g white 6mm pro-grade BBs have been designed to optimize the performance of all Airsoft BB Guns including; Co2 Operated, Airsoft BB Guns with Hop Up, Shotguns, Single Shot Rifles, most good quality Entry-Level BB Guns and High End (AEG) Electric Rifles.


Bulldog BBs stand out from the rest, they are calibrated and have a smooth polished surface, with no ridges or imperfections.
Made with environmentally friendly materials
Designed for professional training & simulation gaming
Highest rating in accuracy, grouping, and range
Made by the #1 BB manufacturer

Precision is the most important factor in high-quality airsoft BBs. Bulldog BBs are 5.95mm + 0.01mm calibrated and have no ridges or imperfections. Designed to maximize the performance of your airsoft guns and pistols. Your favorite Bulldog BBs now come with a re-sealable sturdy tub or bag for easy transportation. Bulldog BBs now the number one selling BB in the world and used by players and gun collectors alike.


Your airsoft gun can only be as good as its ammunition. Selecting the right BB not only makes a difference on the field but also to the internal health of your gun. Bulldog Airsoft BBs are engineered to perform at the highest level whilst also maintaining a superior level of cleanliness. Each perfect sphere is carefully polished and cleaned to a glossy finish before bottled or bagged. The result is a uniform BB, with a predictable trajectory, that will cycle consistently.

Biodegradable BBs are developed for airsoft use and are specifically designed to degrade in the natural environment and leave little to no trace over time. The BBs look the same, shoot the same but give a number of benefits. It helps the environment and lets sites operate in areas that would otherwise not allow traditional ammo. Biodegradable BBs should be used more quickly than standard BBs and kept dry at all times; old or damp Biodegradable BBs can start to swell and may get jammed in your mag or gun.
Today 0.20g is the most common weight for general airsoft use, and its the absolute lightest weight that you should use in your AEG guns or gas/Co2 Pistols. Ensure that your gun never stops performing at the utmost of its abilities with Bulldog Airsoft BBs precision ammunition.
Bulldog Match Grade Airsoft BBs are available in standard and biodegradable.
BULLDOG BIODEGRADABLE 1000 AIRSOFT BB 0.20G WHITE IN BAG
This bag containing 1000 competitive grade 0.20g airsoft Biodegradable BBs 6mm White. Triple polished for precision accuracy, consistency, greater range and reduced gun maintenance. Biodegradable to meet team game requirements and conforms to standards. Designed for: All pro-level gas pistols, higher-end AEG's and rifles. Prompt shipping; Satisfaction of 6mm guaranteed by Bulldog Airsoft. The pro-level Airsoft Bulldog biodegradable BBs are engineered for competitive team use and have a triple polish for increased accuracy and less barrel maintenance shot consistency and greater range. The .20g BB weight provides a reliable use for tactical and military-style team games using various types of pro-grade airsoft pistols and rifles. It is suggested that you test your airsoft gun with various weights to determine the best ammo match for your individual use by occasion.
Airsoft BBs Product Features:
Manufacturer by Bulldog Airsoft
Container is a pouch
Quantity 1000
BBs weight .20g
BBs size – consistent 5.95 mm +/- 0.01mm (common term 6mm)
BBs color is white
Attributes – lab-tested biodegradable, triple polished, premium pro level
Usage locations both indoor and outdoor
Designed for all pro-level gas pistols, higher-end AEG's and rifles
Designed to be used with all FPS ranges
Additional information
| | |
| --- | --- |
| Weight | 0.8 lbs |
| Dimensions | 8 × 4 × 4 in |
| Color | White |
| BB Weight | 0.20g |
| Ammo Type | Biodegradable |
| Quantity | 1000 |
Availability
Now available in-store at
11181 Denton Drive, Suite 101 Dallas 75229


Powered With Oliver Pos
ITEM AVAILABILITY
All items which are available to order will be marked as "IN STOCK" Items marked otherwise will take longer to ship out based on availability. All in-stock orders are usually shipped out the next business day and may take a maximum of three business days. You will receive a notification with detailed tracking information after it ships out from our warehouse. You can also log into your account, to view the current tracking progress.
USPS FIRST CLASS MAIL
All orders placed by 1 pm CST usually go out the same day but may be delayed. First-class mail tends to take a lot longer to deliver as compared to other options. So please don't be in a rush if you choose this option. We recommend Priority for 2-4 day delivery. First-class can take up to a week, but sometimes deliver them earlier as well, 2-3 days. First-class is only for small packages under One pound (0.45 kg).
GROUND / FLAT RATE
Packages ship same-day if ordered before 1 pm CST. This is one of the fastest methods if you're in the southeast USA. Orders placed over the weekend ship on Monday. Billing and shipping addresses must match for all Orders to be confirmed. Please use PayPal as your preferred payment option, as all shipping addresses are being validated through PayPal. Or call your credit card company (number on the back of your card) to authorize your new address as an AVS matching address.
USA RESTRICTED SHIPPING
Most Airsoft Gun orders to New York are not allowed due to state laws and regulations the state has implemented. Do check with our Customer Service team, to check whether your NYC Zip code is under restricted areas or not. All NYC gun orders will be canceled immediately. We will still ship airsoft accessories, tactical gear, and everything else to NY residents though. From January 2016, California airsoft guns will be shipped with new colored strips to adhere to its new gun laws (SB 199). Additional marking will be done to ensure that the Airsoft Guns, comply with the regulations.
AGE RESTRICTIONS WHEN BUYING GUNS
Under Federal Law, airsoft guns and air guns are not classified as firearms and are legal for all ages. Persons under the age of 18 are not permitted to buy airsoft guns, however; a person of any age may use one.
AGE RESTRICTIONS WHEN BUYING BB AND ACCESSORIES
There is no age restriction when buying BBs or other accessories. However, items such as GAS, CO2, SMOKE GRENADES and FLASH BANGS may have an 18 years restriction applied.
MINIMUM AGE YOU CAN OWN OR FIRE AN AIRSOFT GUN
There is no age restriction to own or to operate an Airsoft Gun. It is within the law for a person that is 18 years or over to purchase an Airsoft Gun and gift it to a person that is under the age of 18 years of age to own and operate. So, a parent can buy an airsoft gun and give it to their child to use or keep regardless of their age. We recommend that an adult should supervise persons under the age of 14 years.