Win Our Epic Airsoft Prize Pack – Free To Enter
Mar
WIN THIS EPIC AIRSOFT PRIZE PACK – FREE TO ENTER AND WIN!
Simply like or follow any of our social media channels on Facebook, Twitter, Instagram, or YouTube to enter and have a chance to win our free giveaway airsoft prize pack.
You must like or follow before August 27th, 2021 when we will randomly select one lucky winner.
We will then contact the winner via the social media channel, and when we have received confirmation from the winner the prize will be shipped to them via our courier to be delivered within 10 working days.
If we do not receive confirmation from the winner within 10 days, the draw will take place again to find a new winner under the same terms of this draw.
As the prize pack has both an airsoft rifle and gas airsoft pistol that are restricted to an adult over the age of 18, if you are our lucky winner but are under the age of 18 you may gift this prize to an adult aged 18 or over such as a parent or guardian.
If you are outside of the USA you may still enter, however, do not enter if Airsoft Guns are not allowed by local law in your country or region.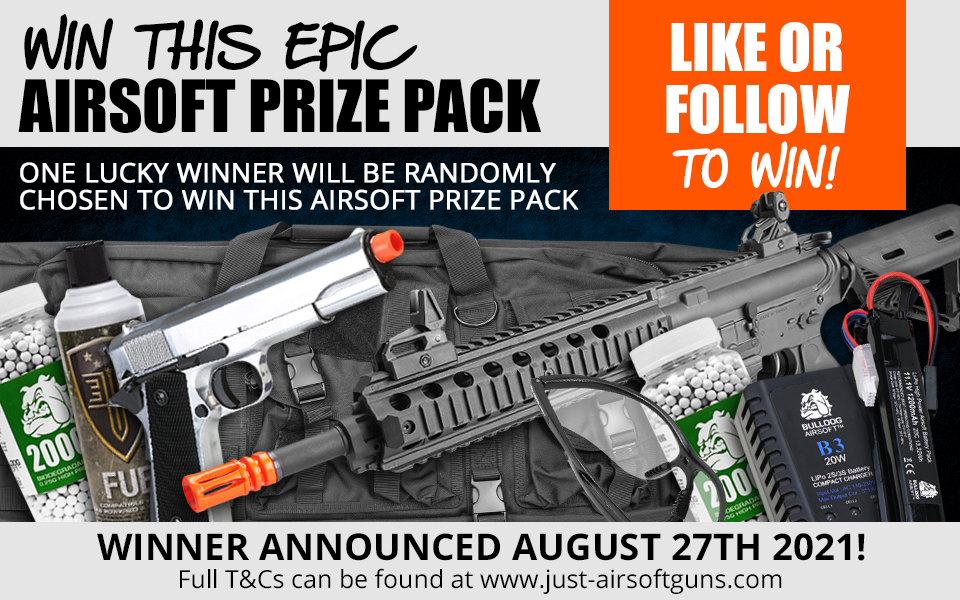 Please note that the products offered within the airsoft prize pack may change depending upon availability at the time of the draw. However, the winner is guaranteed to receive the following items:
Electric AEG Pro Airsoft Gun
4000+ BB Pellets
Airsoft Battery Charger
Airsoft Battery Pack
Gas Blowback Airsoft Pistol
Airsoft Gas Can
Mask or Goggles
Large Tactical Gun Bag
Please follow one of our links below to enter this free-to-enter airsoft prize pack draw…
Facebook – Twitter – Instagram – YouTube
Please note; you are welcome to follow and like more than one channel or post to have more chance of winning.
For more information please contact us via the contact us page on this website.
GOOD LUCK!